Father Chet, April 1977
Heaven is God's home, and, therefore, also our rightful home as God's children, heirs of God, and co-heirs with Jesus Christ. As such, heaven is the goal for which we should strive in all our daily actions.
If there were no life with God after death, then this present life would be incomprehensible with no explanation for the inequalities we find here. But we have the promise of God, and of Jesus, that being incorporated into God's family on earth, we will continue to enjoy God's life forever after death.
What Will Heaven be Like?
Nowhere in the Bible is there even an attempt to explain God's home in heaven. The nearest we have to an explanation is the analogy of the kingdom of God.
However, the kingdom of God is not heaven, but rather, the state of affairs which will occur when the states of heaven and earth are united. Even there is no literal explanation but only symbolic words which seek by comparison to earthly realities to give us some insight into eternal life with God.
Since God is an incomprehensible mystery, life with God either in heaven or in the kingdom of God is such a different kind of reality that we have no adequate human words to describe it.
God's Nature
One way to gain some insight into the nature of heaven is to study the biblical terms used to describe God. Since heaven is God's abode, it will undoubtedly be like God, just as our surroundings reflect our likes and dislikes.
St. John tells us that God is Love
By studying God's personality, we can learn something of the nature of his dwelling place. St. John tells us that God is Love (3:16). God is also Truth, Justice, Peace, and Freedom. God is Goodness and Beauty in an absolutely eminent and infinite degree. Therefore, from our own experience of these attributes, we can begin to know what the place where God dwells will be like.
Hallowed Be Thy Name
In our relationship with God we must keep a proper balance between intimacy and reverence. The Lord's Prayer does this by contrasting the intimate relationship of child and father in the opening phrase with a call to "hallow" and show the proper reverence to God's name in the next phrase.
In the Bible the word "name" refers to the person, so we are challenged to show the proper respect for the person of God. The virtue required of us to practice such reverence is humility – a realization of our creatureliness, our dependence upon our Creator, and the vast distance which separates us from God.
Expressing Humility, not Pride
If we are truly humble and able to face the truth of our nothingness apart from God, then we can appreciate what a tremendous grace it is to be called God's child. Gratitude and praise are two ways by which to express our humility, our respect, and our reverence for God.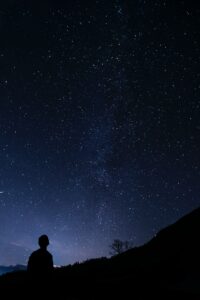 The opposite of gratitude and praise is self-glorification or pride. The proud person invariably lacks proper respect and reverence for God, and puts oneself on the level of God.
Another manifestation of pride is taking God and God's gifts for granted.
Pride in turn leads to a neglect of prayer in all its forms: praise, contrition, gratitude, and petition. Therefore, if we find an absence of the need to pray in our lives, this may be a sign that we have lost the proper reverence we owe to God. We find many examples, or reverence, for God in the Scriptures: Isaiah 6; John the Baptist (John 3:30); Mary and the Magnificat (Luke 1:46-53); and even Jesus' own attitude toward his heavenly Father.
Thy Kingdom Come
In the Gospels, besides the word "Father," the word most often on the lips of Jesus is "kingdom."
What are we asking for in the Lord's Prayer when we pray for God's kingdom to come? We are asking for God's power to become fully manifest upon earth through deeds of kindness, healing, and forgiveness. We are asking that the reign of God over the whole of mankind be accomplished.
Jesus instructs us to pray for the coming of this kingdom of justice, mercy, and goodness. Jesus proclaimed the inbreaking of God's kingdom through the works of mercy he practiced and declared that his disciples would be able to accomplish even greater works of mercy.
In the Lord's Prayer we are instructed to pray that this promise of Jesus will be fulfilled in our day and in the future as it was in Jesus' time.
Fulfilling the Promise of Jesus
God's kingdom came in Jesus Christ. It is our task as Christians to extend the work of the kingdom a little farther.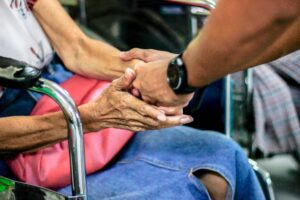 The coming of God's kingdom on earth requires a radical change in the direction of the lives of those who are willing to accept it. A conversion must occur in our thoughts and desires from being centered on ourselves to being centered in God and in loving service to all our brothers and sisters.
Jesus assures us that the power of God to heal and help is always available to us; but this power needs willing instruments and agents who will open themselves to God and put themselves at his disposal in the same way that Jesus did.
Relying Upon God
To do this we must live and act the way Jesus lived and acted. This is not easy, but the first step may be to meditate daily upon the Gospels so that we may know Jesus Christ and learn to adopt his life and way into our own lives and ways.
He has assured us that the power of God is poised and ready to help us if we do not resist it.
What then holds back the in-breaking of God's kingdom on earth? The probability is that we are erecting certain obstacles to the manifestations of God's power. Perhaps our lack of faith and hope, our lack of humility and charity, our lack of prayer and fasting, our lack of openness and responsiveness are holding back the hand of God.
Thy Will Be Done on Earth as it is in Heaven
In many ways this petition repeats the previous one, but in different words.
God's kingdom will indeed come if his will is done on earth. If this petition were fulfilled, we would have heaven on earth.
For us to make specific requests of God is perfectly proper, provided we pray as Jesus did in the Garden of Gethsemane: "Not my will but thine be done" (Luke 22:42). This entreaty gives us a shortcut for all our prayers of petition.
Regardless of the situation, we need pray only for God's will to be accomplished. We thereby put the burden of making the right decision upon God. Therefore, this supplication contains an implicit act of trust and confidence that God will always do whatever is best for us.
Not my will but thine be done
What is God's Will?
According to Jesus, the will of God is summed up in the two great commandments of Love: love God and love neighbor.
God's will is that we have the right order and priority in our values. God's will is that we try to discover the most important things in life and give our first and utmost attention to them. This may mean that we have to leave undone many things of lesser importance, so we should pray for the light to know which things to do and which to allow to go undone.
If we make God's will our will, then God's future will become our future. If we are one With God's will now, we will be one With God for all eternity.
Total Surrender
If we were allowed only one sentence for our whole prayer-life, this particular solicitation of the Lord's Prayer, "thy will be done," would be a good one to choose. It says everything.
It puts God's priorities above ours; and if prayed sincerely, it puts our whole energy behind accomplishing them.
When this prayer is prayed with complete humility, we evidence total abandonment and surrender to God as well as complete trust and confidence that his will is best for us. We indicate a burning desire for God's will, and thus we surely are in possession of holiness or sanctity.
Editor's note: This is the second of three installments from Father Chet's reflections on the Lord's Prayer. The first was published in August and the third will be published in February.